MUSIC OF IRELAND, SCOTLAND & CAPE BRETON
MEET ATLANTIC WAVE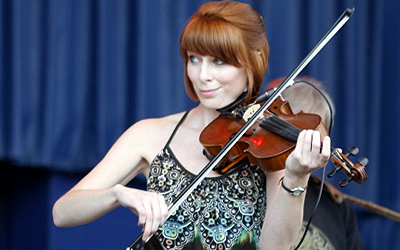 Kaitlin Hahn
Fiddle, Accordion, Piano
A violinist since age 6, Kaitlin took up the Irish fiddle at age 18 (studying under Ed Paloucek) and hasn't looked back. With a penchant for the Cape Breton (Nova Scotia) style of fiddling, Katie attends the Celtic Colours festival there each year and has befriended many of the great artists who perform there. She's also learned from some the greatest names in fiddling, including Liz Carroll, Jerry Holland, Stan Chapman, Buddy MacMaster, Glenn Graham, Kimberley Fraser, and Melissa Emmons. Kaitlin teaches fiddle at the Milwaukee Irish Fest School of Music as well as the Milwaukee Irish Fest Summer School. When not fiddling on stage, Katie's been known to do some foot tapping, accordion, and even some keyboard work on Atlantic Wave albums.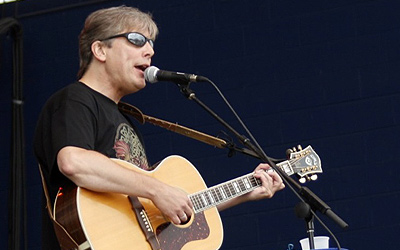 Barry Houlehen
Guitar, Lead Vocal, Bass
A guitarist since 1977, Barry is the longest-playing musician of the group, and has the most diverse and eclectic musical background. Inspired at first by acoustic artists of the 60s and 70s, he later drifted into rock and blues, playing bass for a while with blues-rock outfits. It wasn't until he heard the Pogues in the 1990s that he became enamored of Irish music and returned to his roots as an acoustic guitarist and singer. Barry's known for his love of singing ballads and his encyclopedic memory of songs. His favorites are the songs from Scotland, but he's been known to break into country, blues, jazz, Elvis, Beach Boys, Grateful Dead, show tunes, rockabilly, latin, reggae, and Monty Python at the drop of a hat.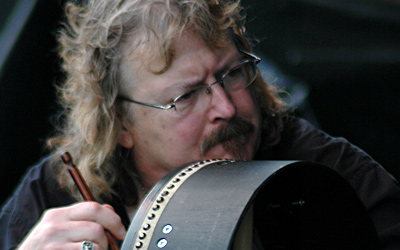 John Karr
Bouzouki, Bodhran, Percussion, Vocals
A relative late bloomer compared to the others in the band, John makes up for it with his passion for Celtic music. John's journey into Irish music began with playing bodhran at the sessions in the Milwaukee area, and as his playing developed he soon branched out into the bouzouki. He played bouzouki and sang with a local kilted Scottish band for a while before forming Atlantic Wave. Like Kaitlin, John has been attending the Celtic Colours festival in Cape Breton for years, where he's gotten to know many of the incredibly talented performers who play there. When not regaling his bandmates with tales of Cape Breton, John's been known to practice the fiddle, which he's taken up lately.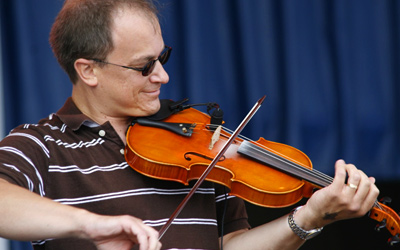 Ed Paloucek
Fiddle, Hurdy Gurdy
Like Kaitlin, Ed started out as a classical violinist as a kid, and later became interested in Irish music. And, like Barry, he was also enthralled upon hearing the Pogues when they came out in the 1980s. A consummate tune collector and session player, Ed has travelled the backroads of Ireland in search of tunes, and has played with some of the biggest names in Celtic music. While Kaitlin's sound is Cape Breton, Ed's is the Scottish-tinged style of Donegal, the county in the far northwest of Ireland, and he also includes pieces from many other countries in his playing. In the 90s, Ed was a member of Milwaukee band 180 and the Letter G. In addition to fiddle, Ed plays the hurdy gurdy, a medieval instrument, and has been playing his custom-made hurdy gurdy live with the band.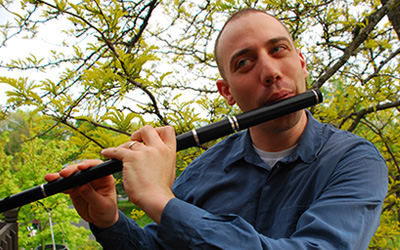 James Reilly
Flute, Whistle, Vocals
James attributes his love of Irish music to his family. Born into the NYC traditional Irish music scene, he quickly developed a taste for pure drop Trad. His father Tom, a remarkable flute player himself, attracted many NYC notables such as Martin Wynne, Michael Reilly, Liam Shanahan , Johnny Cronin and Pat Henry to the house for tea and tunes. James began his musical expedition sitting quietly listening to the banter and stories, interspersed with bursts of dance music.
James plays with an breathy style, heavy with rhythmic accents. It is easy to hear the influence of the button accordion in his playing, as well as the Sligo fiddling that was so popular in NYC in the 80's and 90's. Mostly though, his style a part of 100 years of Traditional Irish Music lineage that began with his Grandfather and namesake, James Reilly, in Mullahoran, Co. Cavan.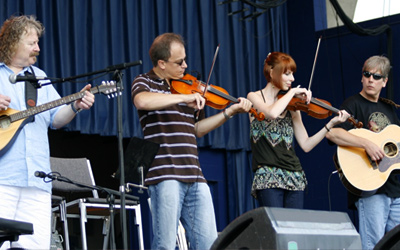 The Origins of the Band...
In 2004, Ed, Kaitlin and John were all playing in different bands in the Milwaukee area, while Barry was just "looking for a band to join". Ed was leading the Irish music session at The Pub in Oconomowoc, and Kaitlin and John played there on a regular basis. All three expressed interest in starting a new band that better fit their own tastes in music. Around the same time, the Scottish band John was playing in was looking for a new guitarist/singer. Patty, the owner of Paddy's Pub on Milwaukee's East Side, asked Barry if he'd be interested, and introduced him to John one evening when they were sitting on opposite ends of the bar. In addition to the Scottish band, John also mentioned the idea of forming a new trad band. Months passed, and Barry continued asking John about the band opportunities each time they met at Paddy's. In the end, the Scottish thing never happened, but in November of 2004, Kaitlin, John and Barry met at Paddy's for the first band meeting, or, as it's also known, "Barry's Audition". They immediately agreed to put the band together, and by Christmas had already assembled a large repertoire to rehearse. After three months of rehearsals they were ready to rock, and it's been jigs and reels ever since...